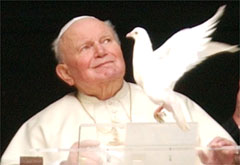 We Catholics are guilty-feeling and conflicted about pretty much everything -- I like to think it makes us better, more characterful people -- so I guess it's only natural that I have some conflicted feelings in the wake of Pope John Paul II's passing. On the one hand, yes, I think the times call for the kind of more progressive attitudes toward birth control and women in the ministry that John Paul just wasn't willing to consider. And as much as I'd like to get really mad at Tony Pierce for
some of the things he had to say about the Pope
with respect to the church's non-response to the child-molestation scandal, I can't, because I'm angry about that too. I can't try and pretend that I'm not.
But just as many of us Catholics struggle every day to reconcile our love for the church with our disagreements with it, there was a lot about this pope and his tenure that
was
great, and I can't let that go ignored just because of the things that weren't. In particular, there was one thing about this pope that I found truly inspiring and admirable, and my aunt I visited yesterday -- who, if there could be such a thing as a "devout atheist," would surely qualify -- pointed this out, too, even before I could: When the Pope talked about "a culture of life," he meant it,
no exceptions.
He wasn't one of those conservative Christians who makes a big show of their concern for unborn babies or Terri Schiavo but then turns right around and clamors for war or pumps his fist when a prison inmate gets executed. He was anti-abortion but he was also anti-death penalty and anti-war -- the war in Iraq being only the most recent one (as
some current conservatives and so-called Catholics
would do well to remember). You could call Pope John Paul II any number of things, I suppose, but inconsistent wasn't one of them.
So in the end, I like to think that even those who still disagree with some of the stances the church took under John Paul's tenure will be able to admire and appreciate some of the positve things he stood for, like respect for peace and life. That's not to say anyone should just throw up their hands give up in their attempts to try and square what they love about the church with what still bothers them -- admitting we don't have all the answers and continuing to ask questions is what makes us human. If we had all the answers we'd be gods; if we just blindly accepted everything dished out to us we'd be robots, and I don't think that's what God gave us free will for.
I hope that people of
every
faith will see the Pope's passing as an opportunity to reflect on the truly great things he did in his life and try to further those efforts in their own, and I hope Catholics in particular will continue asking questions and trying to strengthen both their church and their faith. And to the
birthday list
I put together a few days ago, I'd like to add
this shirt,
from Urban Outfitters: